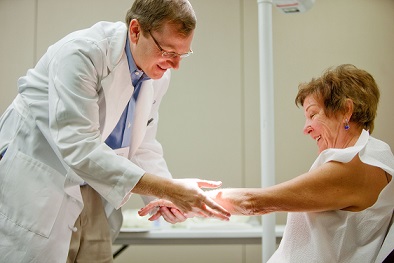 A collaborative effort of the Skin Cancer Institute, the College of Nursing, and the Office of Instruction and Assessment (OIA) resulted in the 12-minute video, "Skin Cancer: Learn to Spot it Early", which features a detailed demonstration on how to perform a skin self-exam. This video was funded by the Laurence B. Emmons Award from the College of Nursing and by funding from the Skin Cancer Institute.
The video was part of a research study titled "Internet Health Information Delivery for Melanoma High-Risk Patients" led by Principal Investigator Lois Loescher, an associate professor in the UA College of Nursing and director of education and behavior research at the Skin Cancer Institute. Study participants who viewed the video had significant increases in self-reported melanoma awareness and skin self-examination.
In 2009, the video received a Golden Triangle Award from the American Academy of Dermatology (AAD). This award recognizes efforts to promote increased awareness and understanding of dermatologic issues. "Early detection is extremely important if you are at high risk. If you find melanoma early, you increase your chances of survival as much as 95 percent", says Dr. Loescher. 
This video is available for purchase. Please contact Lisa Quale at (520) 626-1074 or lquale@uacc.arizona.edu.