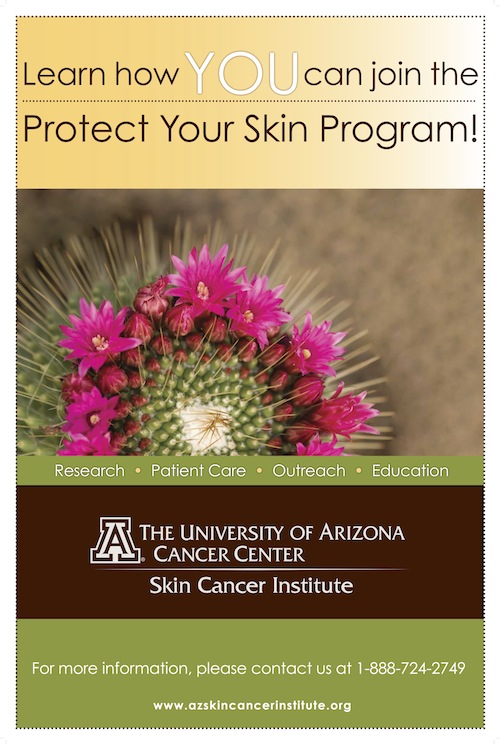 T

he "Protect Your Skin" starter kit cost to you is only $250, and includes:
                   ** TWO sunscreen dispensers
                   ** TWO sun safety signs to post next to sunscreen dispensers
                   ** ONE GALLON of SPF 30, zinc oxide based sunscreen fro R&R lotions
In addition to these materials, program participants will have access to reduced prices on dispensers and sunscreen in future orders. If you order through R&R lotions, 15% of your future orders will be donated to The Skin Cancer Institute's continuing efforts to make Arizona a sun safe community.
Anyone can join the program! For more information, please contact us at 1-888-724-2749 or visit protectyourskinaz.org.

How the program began
In 2006, a partnership began between the Skin Cancer Institute (SCI) and the Arizona Sonora Desert Museum (ASDM) to offer more sun protection to the museum's visitors. Permanent signage and sunscreen dispensers were placed in the museum bathrooms for visitors to use. The response was overwhelmingly positive!
In 2011, the SCI was awarded a Community Connections grant to fund permanent educational signage and install sunscreen dispensers in the bathrooms of many of the major outdoor attractions in Tucson, including:
Reid Park Zoo

Pima Air and Space Museum

Tohono Chul Park

Tucson Botanical Gardens

Biosphere 2
The total attendance for these major outdoor attractions in Tucson is close to 1.5 million visitors each year. Many of these visitors are from other states or countries and are not prepared for the severe desert climate.
Our goal
Our long-term goals for the Protect Your Skin Program include:
Provide sunscreen dispensers to participating sites.

Offer appropriate permanent sun safety signage at each 

site.

Permanently incorporate sun safety programming and increase sun safety messaging into participating businesses.
Current program participants
Kits have been purchased in varying quantities by the following:
AHSC Center on Aging
BabyBanz, Inc.
Bill's Home Service Company
Canyon Ranch Center for Prevention and Health Promotions
Casa Ninos School of Montessori 
Desert Sky Middle School
ENACTUS Club
Freemont Junior High School
Goodman's Interior Structures
Gridley Middle School
Huntsman Cancer Institute
INSYS Therapeutics, Inc 
Jev Roofing Company
Keller Williams- Southern AZ
Kiwanis
Medical Transport
Mel & Enid Zuckerman COPH, Canyon Ranch Ctr for Preven & Hlth Promo
Milwaukee Brewers Baseball Club
Oro Valley Police
Presidio San Agustin del Tucson
Primavera Men's Shelter
R Jen, LLC 
Rincon Air Conditioning & Heating Co.
Saguaro National Park
Student Health Advocacy Commitee (SHAC)
Town of Cave Creek
Tucson Jewish Community Center
UA Expo of Excellence 
Vail School District
Yuma Agricultural Center