Keep your newborns and infants protected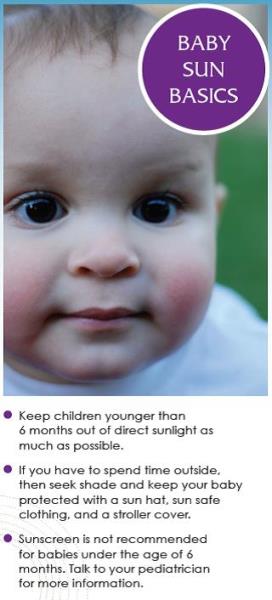 A baby's sensitive skin can burn quickly, so keeping your baby safe in the sun is important. A single sunburn during childhood raises the risk of melanoma (the most deadly type of skin cancer) significantly.
Keep newborns and babies younger than 6 months out of the sun as much as possible! Always use the sunshade on your baby's stroller when you're outside. Shade provides only partial protection against UV rays. Even a baby in the shade can get sunburned, so limit your time outside. Try doing outdoor activities early in the morning or in the evening.
Cover your baby's sensitive skin with protective clothing, such as long sleeves, long pants and socks. Choose lightweight fabrics with a tight weave. Fabrics with a tight weave block out more sun than loosely woven fabrics. Hold the fabric up to the light. If you can't see through it, you've made a good choice! 
Whether your baby is bald or has a full head of hair, a hat is a must. Choose a hat with a brim that's wide enough to shade the face, neck and ears (see our "Hat's On" offer below.) Try a pair of UVA/UVB-protective sunglasses too.
Babies and sunscreen
Once your baby has reached 6 months of age, it's OK to use sunscreen on their skin. It's still best to limit their time in the sun and cover their skin with protective clothing, but if you're going to take them outside here are some sunscreen tips:
Choose a sunscreen with a sun protection factor (SPF) of 30 or higher. Look for the words "broad spectrum" on the label. Broad spectrum means the product protects against both UVA and UVB rays from the sun. UVB rays are more likely to cause sunburn, while UVA rays cause damage deeper in the skin.
Apply sunscreen 20 minutes before going outside, and reapply every two hours. Make sure you cover all exposed areas of your baby's skin, including the tops of the ears, back of the neck, and the feet.
If your baby goes into the water, reapply sunscreen as soon as you towel him/her off – even if it's been less than two hours since you applied it.
Keep your kids safe in the sun
We all need protection from the harsh Arizona sun, but children are especially vulnerable. Their skin is still developing and is very sensitive to the sun. Here are some things to remember when going outside with your kids.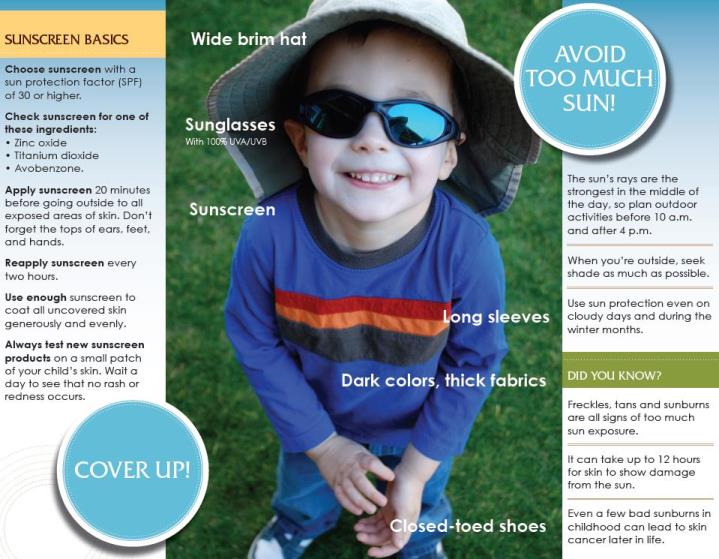 "Hats ON" to Tucson youth!
In an effort to help protect Tucson kids from the sun, The Skin Cancer Institute has developed a sun hat program. Through this program, we are able to offer hats and sun safety information for a low price. Hats are provided at a generously reduced cost through our partnership with Baby Banz, Inc.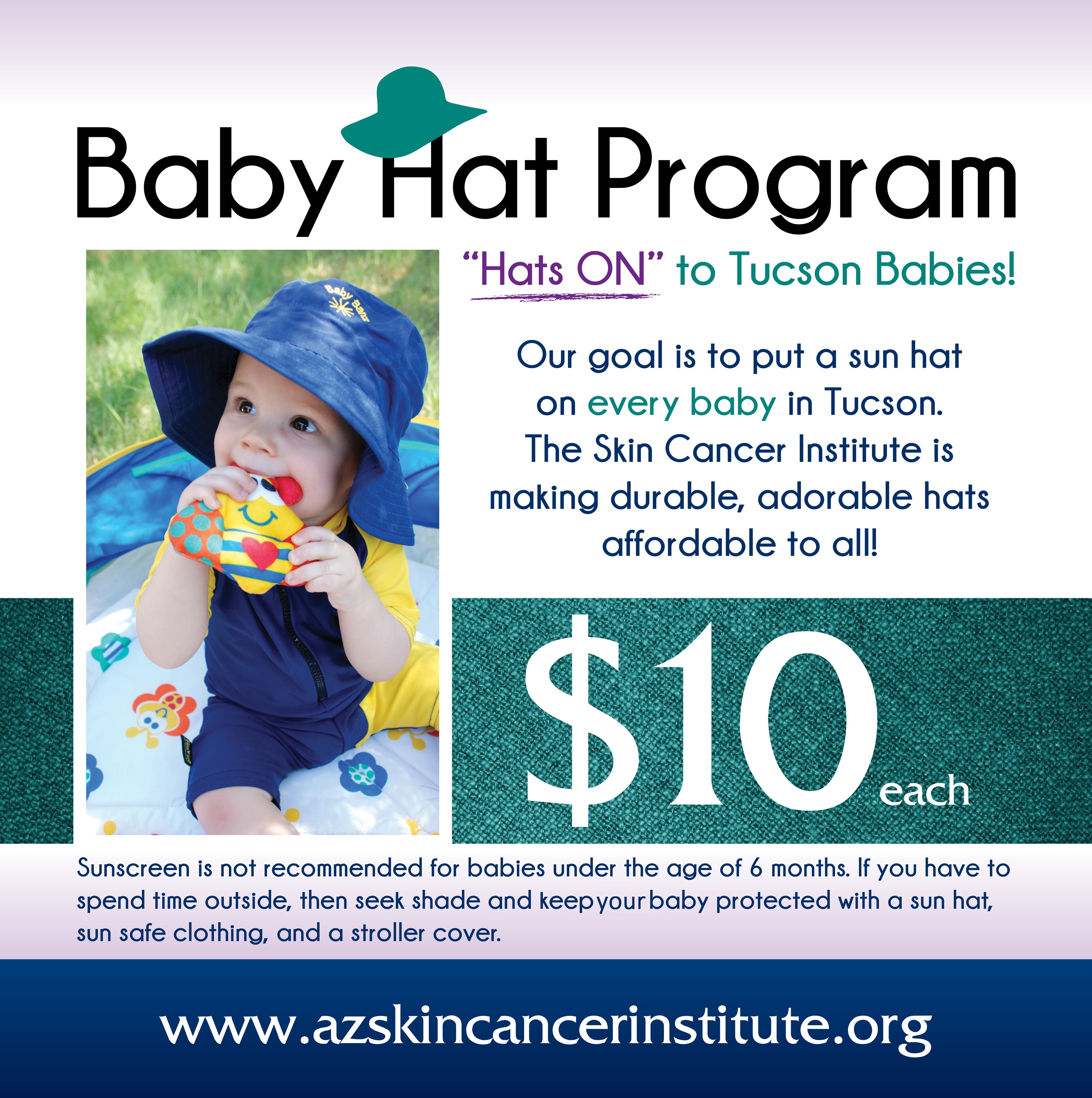 Our goal is to put a sun hat on every kid in Tucson.
You can buy a baby hat (49cm circumference) or kid hat (56cm circumference) directly from The Skin Cancer Institute for $10 each. Your purchase includes an informational brochure. Call us at (520) 626-1074 for more information on how to purchase your hat today.
You may also send check or cash and your mailing address and phone number to:
University of Arizona Cancer Center
Skin Cancer Institute 
1515 N. Campbell Avenue 
Tucson, AZ 85724

Make checks payable to Skin Cancer Institute or UA/SCI.
The Summit Hut in Tucson also carries a line of our hats and brochures!
Help us educate parents and protect babies from the dangers of the sun: Donate now. Please specify that your donation is for baby hats in the "comments" section on the donation page.