We strive to offer professionals the most current information and resources in skin cancer prevention and sun safety education  
---
Informational Brochures
The Skin Cancer Institute has developed several educational brochures. We offer information about skin cancer, sunscreen facts, sun protection for outdoor workers, and how to protect children from the sun.
These materials are available at a nominal cost for use at your practice or facility. View our order form HERE.
To receive a sample of these brochures or to place an order, please contact Kathleen Molinar at kmolinar@arizona.edu or call 1-888-724-2749.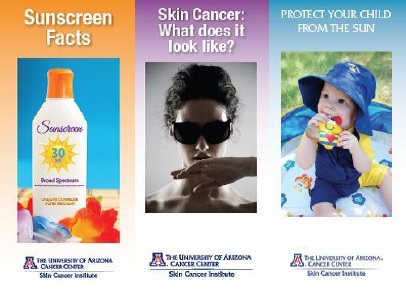 Educational Video
A collaborative effort of the Arizona Cancer Center Skin Cancer Institute, the College of Nursing and the Office of Instruction and Assessment (OIA) resulted in the 12-minute video. The video features a detailed demonstration of how to perform a skin self-exam, what to look for, and testimonials from skin cancer survivors. The video is used for patient and community education in skin cancer detection.
"Skin Cancer: Learn to Spot it Early"
This video is available for purchase. Please contact Lisa Quale at (520) 626-1074 or lquale@uacc.arizona.edu
Baby & Kid Hats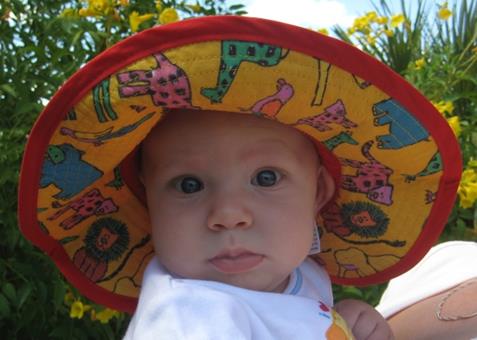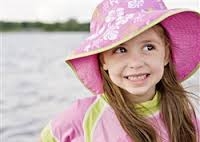 Our goal is to put a sun safe hat on every child by providing durable, adorable and affordable hats for all! 
Baby hats fit ages 0-2 years and up to 19" head circumference. Kid hats fit ages 2-5 years and up to 22" head circumference. Both sizes have adjustable Velcro in back.
The purchase of a hat includes our "Protect Your Child from the Sun" brochure with information on how to keep small children sun safe. Cost is $10 per hat. Call us at (520) 626-8834 for more information on how to purchase hats.
                    ​
"Heads up" program

Local dermatologists can help diagnose deadly melanoma earlier than ever before with The Skin Cancer Foundation's "Heads Up!" program.
Beauty professionals can notice suspicious lesions in hard to spot areas before they become serious. Dermatologists can help them learn what to look for. Find out how you can host a "Heads Up!" event in your area.
---
Past Training activities and professional education opportunities
The 11th annual International Skin Carcinogenesis Conference 2014
The International Skin Carcinogenesis Conference (ISCC) is a biannual meeting that brings together scientists who are at the forefront of understanding the molecular basis for skin cancer development. The ISCC is the only meeting dedicated solely to understanding the development, prevention, and treatment of both non-melanoma and melanoma skin cancer. This conference promotes the exchange of ideas by a diverse group of experts from around the world. The Skin Cancer Institute hosted the 2014 conference June 5th-8th. The conference featured the most recent and relevant advances in our understanding of the biological, cellular and molecular changes that occur during skin tumor development. One focus was on frontiers of environmental exposures and skin photoprotection with sessions ranging from molecular to clinical to behavioral studies. There were presentations covering squamous cell carcinoma, basal cell carcinoma and melanoma.
Current Trends in the Genetics of Melanoma and Clinical Implications
Over 80 physicians and health professionals attended this Continuing Medical Education (CME) event on October 16th, 2010. The all day conference highlighted 7 speakers reviewing current topics in melanoma research.
An Interactive Case-based Discussion on the Management of Non-Melanoma Skin Cancer 
Sixty dermatologists and health professionals from throughout the state of Arizona received Continuing Medical Education (CME) credits. This event was held at the Arizona Cancer Center on April 19, 2008 and was televised to Phoenix.
Tucson Melanoma Update
This conference held at the Arizona Cancer Center featured national experts on melanoma detection and treatment, including Skin Cancer Institute physicians. Over 50 dermatologists, surgeons, and nurses from the Arizona community attended this event in November, 2007.
---